Mojo pulled pork is a delicious citrusy-garlicky pork roast that is easily smoked for a different take on this traditional Cuban mojo criollo marinade. Eat this on its own or turn it into tacos or sandwiches.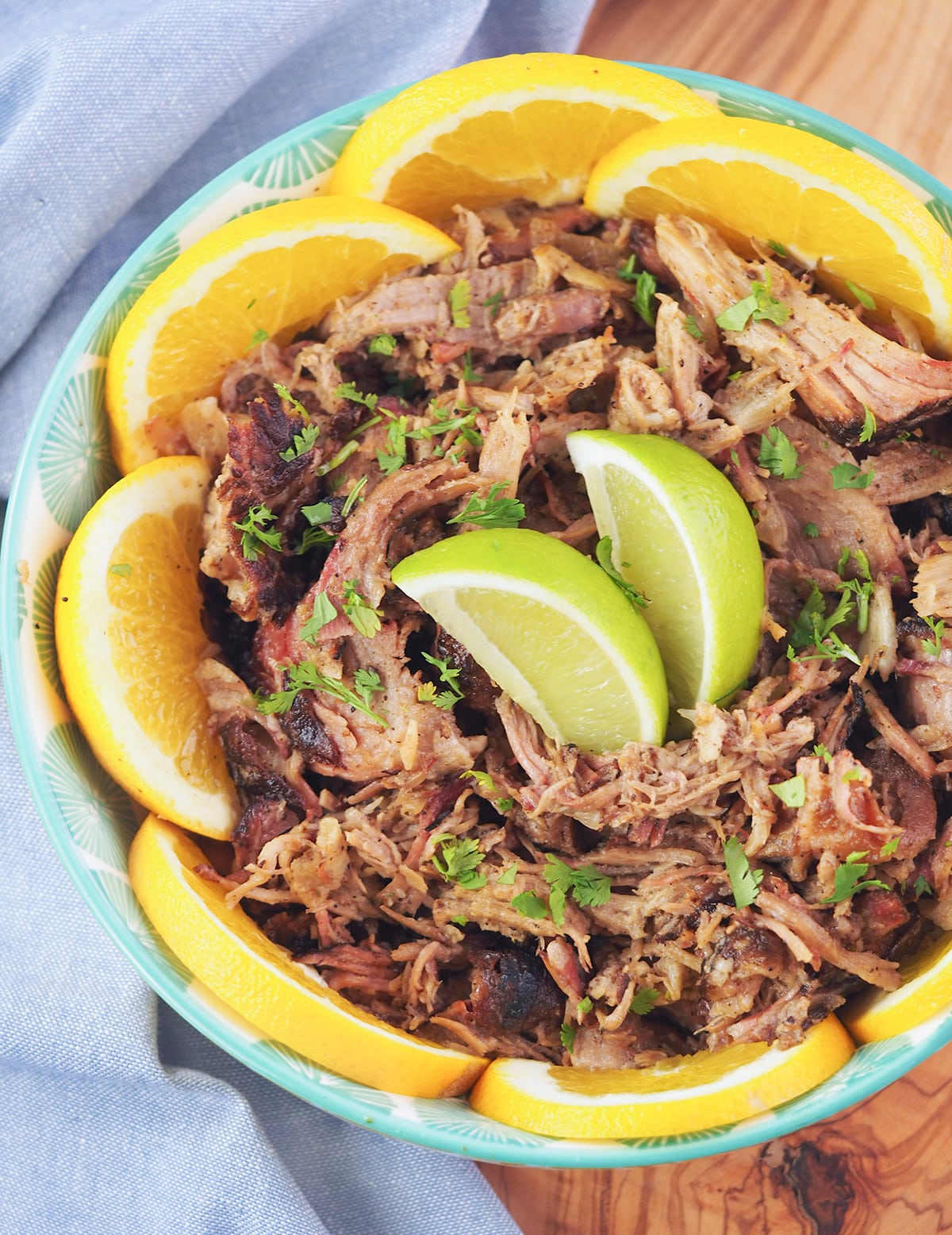 Jump to:
Why this works
Easy peasy - this mojo pulled pork is about as easy as it gets just like a regular pulled pork recipe. Use a simple quality store-bought mojo marinade or make your own homemade mojo marinade from scratch then let the smoker do all the work.
Get creative with leftovers - put a different twist on your pork nachos or make some amazing Tampa-style Cuban sandwiches.
New family favorite - this is mojo pulled pork is sure to become a new fave just like it is at our house. Living in Tampa Bay I love Cuban food and it's in regular rotation at our house.
Ingredients you will need
Here is a quick snapshot of the ingredients you'll need for this recipe. Scroll to the recipe card where you will find the exact measurements.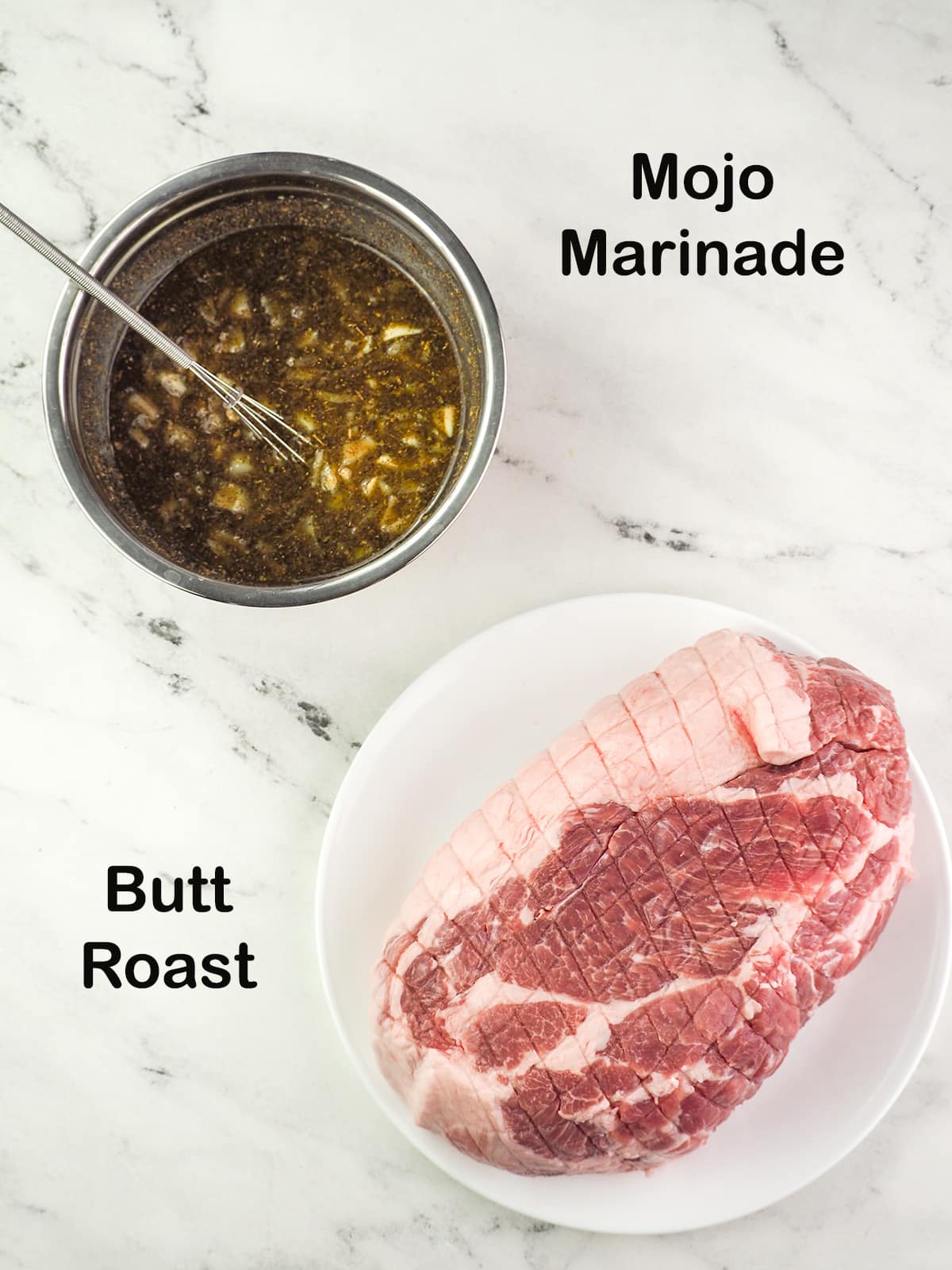 Ingredient notes
Pork - you can use either a butt roast with the bone-in or without the bone. Or you can use a pork shoulder as well. Look for a butt roast that has a nice fat cap. If you are using a boneless roast then be sure to tie it with butcher twine before cooking.
Mojo marinade - you can use a bottled marinade from the store or you can make your own mojo marinade.
How to make this
Step 1: Marinate the pork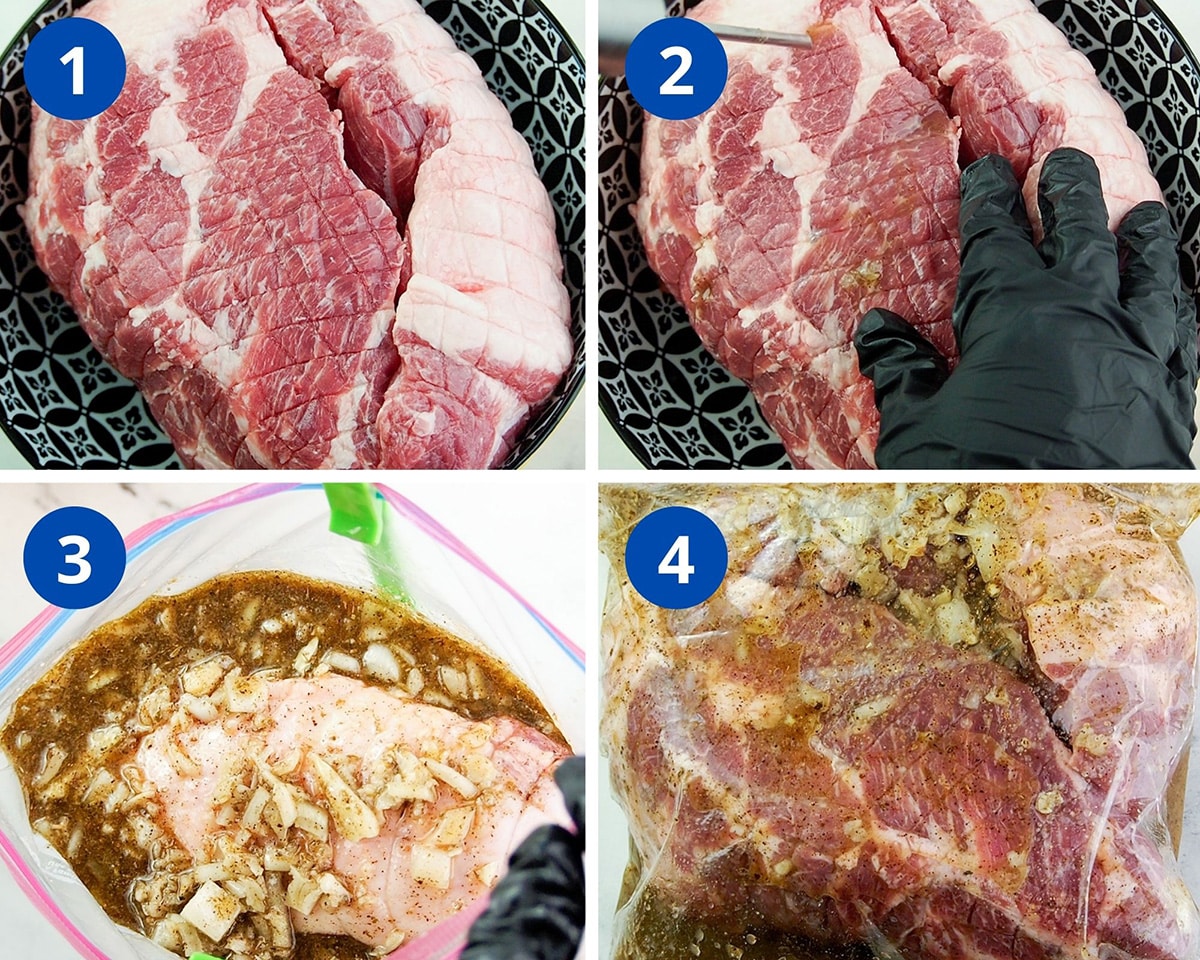 Put your butt roast in a shallow bowl or pan. I chose to inject my marinade and marinate the whole cut of meat. You don't have to inject but I do recommend it.
Place the pork into a large plastic bag or shallow airtight container. Pour the remaining marinade over the butt roast. Allow marinating for a minimum of 8 hours up to overnight. I recommend marinating overnight.
Either buy or make extra marinade and reserve this for later. If you didn't reserve the marinade prior to marinating the pork no worries. Take the leftover marinade and boil it in a small saucepan for at least ten minutes before using it again.
Step 2: Smoking the marinated butt roast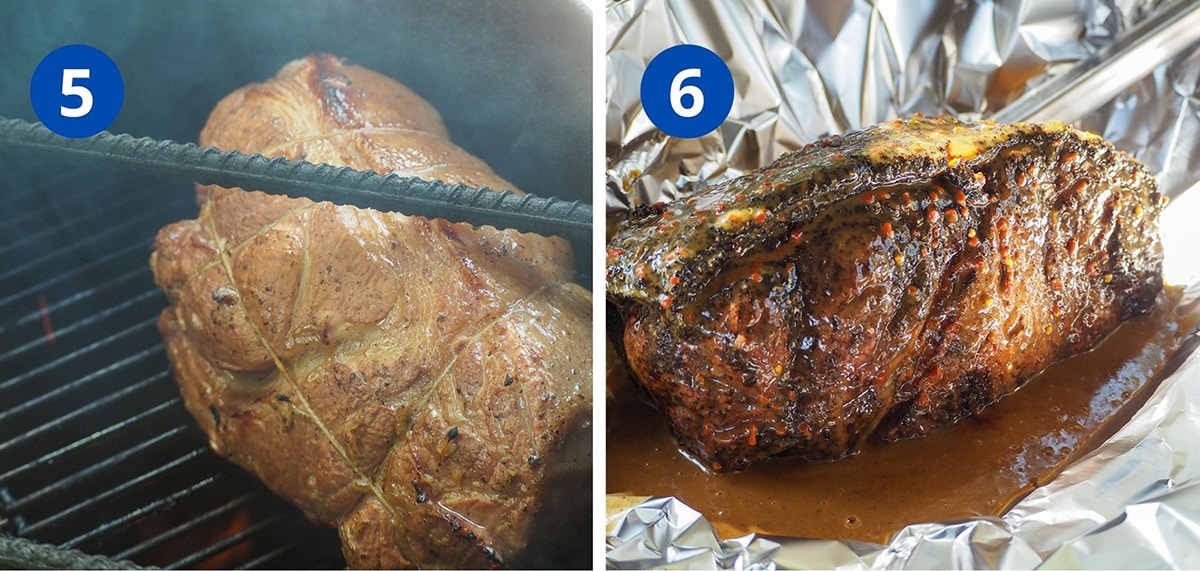 Prep your smoker, and aim for an ambient temperature of about 225 to 250 degrees. I prefer to use oak or pecan chips for extra flavor.
Once the smoker is up to temperature add the butt roast and cook until it reaches an internal temperature of 160 degrees. Once the pork gets to temperature wrap it in foil with about ½ cup of the marinade.
Put the wrapped mojo pork back in the smoker. Smoke until the internal temperature reaches 205 degrees. Once it hits temperature remove it from the smoker and allow the meat to rest for 30 minutes then shred the meat. Pour the reserved marinade over the mojo pulled pork and toss for extra flavor.
Expert tips
While cooking the mojo pulled pork if it needs to be spritzed use either the marinade or some of the sour orange juice you made the marinade with.
Be sure to reserve the marinade to pour over the shredded pork at the end. Like we do with our North Carolina Sauce this adds tons of extra flavor to the meat.
FAQs
What does Cuban pork taste like?
Cuban pork is a flavor-packed main dish that has a garlic and citrus taste.
What makes mojo marinade different?
Sour orange juice or Naranja agria is commonly made from Seville oranges with loads of garlic is what makes mojo marinade different.
Serving suggestions
Serve this mojo pulled pork with Cuban-style black beans and rice, fried plantains, or yellow rice. You can also serve this with a Columbia 1905 salad. The leftovers are amazing as part of a homemade Cuban sandwich!
Storage & Reheating
Serve immediately, or store for up to one week in an airtight container. Reheat in a pan with juices, in the microwave, or on the Blackstone griddle. Can be frozen for up to three months, and thawed in the refrigerator prior to reheating.
More recipes
Did you try this recipe? Why not leave a star rating and/or review in the comment section below. I always love hearing your feedback. Be sure to sign up for our email list, or follow us on Pinterest, Facebook, or Instagram!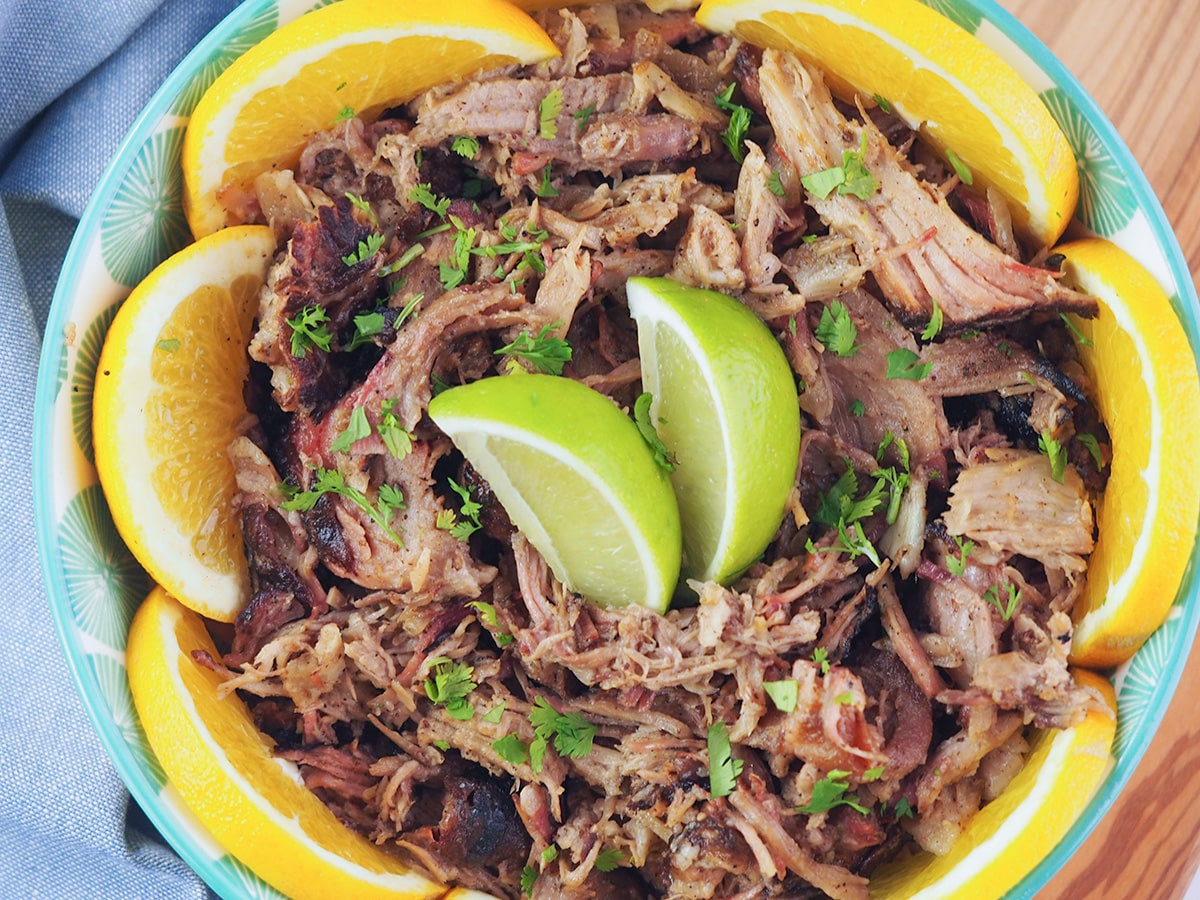 Recipe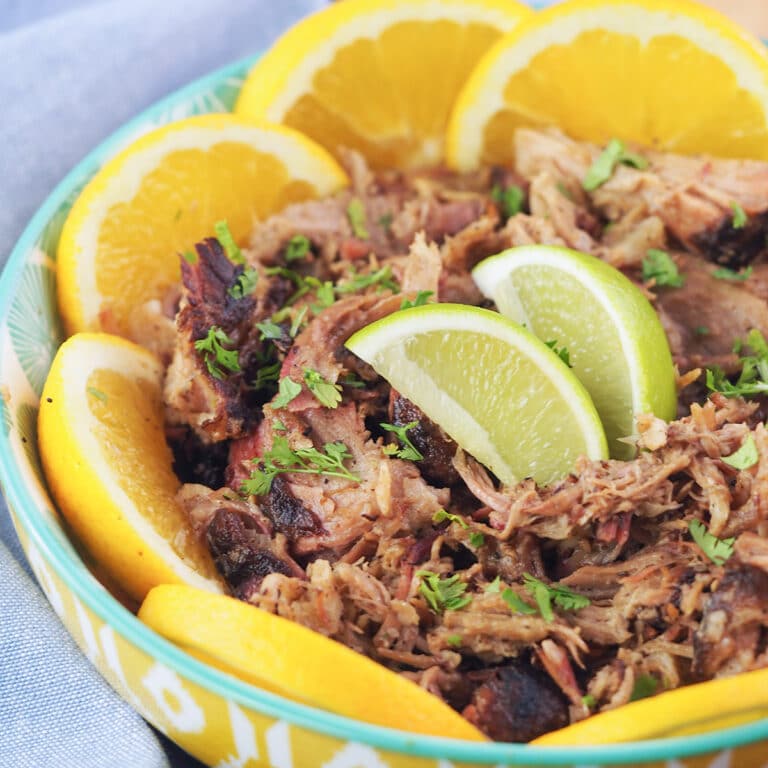 Smoked Pulled Cuban Mojo Pork
Mojo pulled pork is a delicious citrusy-garlicky pork roast that is easily smoked for a different take on this traditional Cuban mojo criollo marinade. Eat this on its own or turn it into tacos or sandwiches.
Print
Pin
Rate
Ingredients
8

pound

Boston Butt Roast

2

cups

Mojo Marinade

store bought or homade
Instructions
Prepare smoker for cooking. A general guideline for the ambient temperature of the smoker is 225- to 250 degrees. Use oak or apple wood for flavor.

Marinate the butt roast overnight or for up to 24 hours in Mojo marinade.

Reserve the marinade and boil for 10 minutes. You will use this later when we wrap the roast.

Place in the smoker either by hanging with hooks or on the rack with the fat side up. Cook until the internal temperature reaches 160 degrees.

Remove and wrap in foil. Add leftover Mojo sauce to Boston Butt. Be sure to leave the fat cap up.

Return to the smoker, and place on rack. Cook until it reaches an internal temperature of 205 degrees. Remove to rest in foil on counter.

Allow the meat to rest for about thirty minutes. Remove from foil, remove the bone, and shred the meat.

Serve immediately or store in an airtight container for up to one week.
Notes
Our Mojo Marinade is great for this recipe or you can use a store-bought version.
Nutrition
Serving:
1
serving
|
Calories:
292
kcal
|
Carbohydrates:
4
g
|
Protein:
36
g
|
Fat:
13
g
|
Saturated Fat:
5
g
|
Polyunsaturated Fat:
1
g
|
Monounsaturated Fat:
6
g
|
Cholesterol:
124
mg
|
Sodium:
141
mg
|
Potassium:
712
mg
|
Fiber:
0.1
g
|
Sugar:
3
g
|
Vitamin A:
94
IU
|
Vitamin C:
22
mg
|
Calcium:
30
mg
|
Iron:
2
mg
Don't forget to join our Facebook group - Blackstone Griddle Love or our BBQ group!